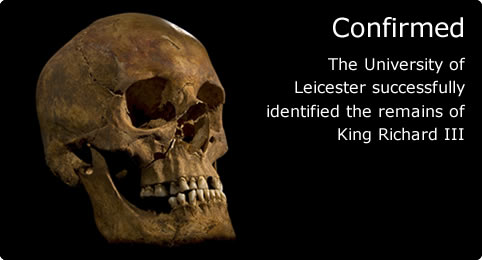 If the Plantagenet dynasty, which ruled England from 1154 to 1485, had definitely been put away in history books, the legend of that family was still alive thank to a mystery. That mystery was the disappearance of the body of the last Plantagenet king of England, Richard III, killed in 1485 during the Bosthworth battle, by his foe and succesor, Henry VII, 1st Tudor king of England. A skeleton, discovered after archeological digs under the Friars car park in Leicester, a place of a monastery, destroyed since, where, according to historians, the remains of the defeated king were buried 527 years ago.
The news of the possible discovery of the last king of the Plantagenet dynasty, coming from the Anjou province before 1000, had yet covered pages of many newspapers and magazines of the world, and not only the English speaking world. The analysis of the skeleton's Dna and its comparison with the one of a distant descendant led the specialists to conclude "that beyond reasonable doubt the individual exhumed at Grey Friars in August 2012 is indeed Richard III, the last Plantagenet king of England".
The news is a godsend for Leicester whose cathedral should shelter the remains of the king because tourist attraction will benefit. The Bosworth heritage trail attracts about 40,000 visitors a year. and according to Leicestershire county council, it is predictable that Richard III's tomb would multiply that number. England saw in 2012 dispute about the final resting place of the king, a reminiscence of medieval cities fighting each other over saints' relics in a bid to ensure pilgrim visitors – a source of revenue similar to today's tourist attractions.