Le dernier chat du maire avec des habitants montrent que ceux-ci son principalement préoccupés par les questions de voiries et de cadre de vie. En consacrant une part de sa campagne à ce sujet, l'ancien candidat parait avoir rencontré une aspiration des électeurs.
Among the numerous questions arisen to the Angers Mayor, Christophe Béchu - already a specificity of his chat with Angers inhabitants on September 23rd compared to the previous sessions - most of them illustrate an interest of the people for the current conditions of the streets, squares and pavements in town. The place they have had in the municipal campaign of Mr. Béchu looks to match a real concern. Many internauts complained last Tuesday about the filthness of pavements, the ageing of some squares (Leclerc) and the sadness of streets even in downtown.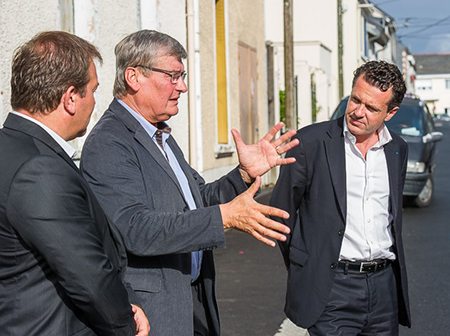 The difficulties experienced for the parking of cars were also an issue. People complained about
the lack of parking areas, and the difficulties to use the current parking like the one of the Ralliement square. The exchanges point out a question about the importance of the car traffic which looks to become for some of mayors' interlocutors something preventing them to benefit of their city. An implementation of a second tramway line is waited and there is expectations about the rank of bikes in Angers.The streets were, but from another perspective, an issue for hustle and bustle in Angers. If some residents are worried about the nocturnal nuisances, others feel regrettable the same streets are not sufficiently enlived during the most important events in Angers, like the Accroche-Coeurs.
The talk took place just before the announcement of ThyssenKrupp about the losses of jobs what could explain the absence of debate between the mayor and the citizens about economic subject. But the integration of students in the local employment is more than ever problematic.