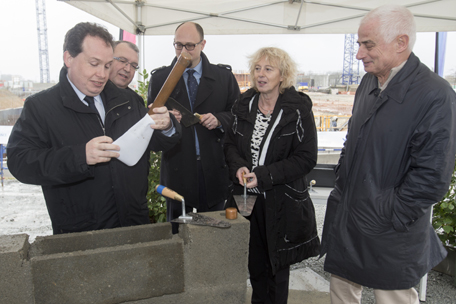 Before the end of the current year, the Angers inhabitants can swim in Aqua Vita, the new water complex of the city. The first stone of the project has just been put up by on January 30th by the mayor. "Aqua Vita is the facility the Angers people missed. Do not forget that one inhabitant out of two does not go in holidays". So the water complex should replace the seaside for low income Angers households.
The objectives of visits are ambitious. Thanks to Aqua Vita, the globla numbers of visitors in Angers swiming pools shoulde increase from 658 000 to 885 000. And the new complex alone should register 390 000 entrance tickets. Through that facility, Angers city goes after the apprenticeship of swimming for all pupils of Angers primary schools and a place of relaxation for those who stay in town during summer. And all at low fares.
The money aspect triggers the main critics because Angers finances would not be presently in the same conditions as a few years ago. The overall cost of Aqua Vita reaches € 35 millions, 9 millions being financed by other public authorities. Frédéric Béatse, aware of those opinions, assured the project was "under control". It would be ironic that the city finances were sunk because of a swimming pool complex.