Clink of an eye? Designed to separate in two parts of the same country, the Berlin Wall, today almost completely dismantled, and exported all over the world, is a symbol of reunification! That complete change of meaning didn't escape to Angers representatives.They used one of the pieces of the Berlin Wall the city inherited in setting it up on the left bank of the Maine, on September 20th, in front of the Gaumont Multiplex, to recall to the young generation and people coming in that place, the necessity of concord between nations. More pragmatic, the Angers mayor, Frédéric Beatse, pointed out that this piece of the "Wall of shame" suited perfectly with the "New banks" project aiming at a reunification of Angers around its river.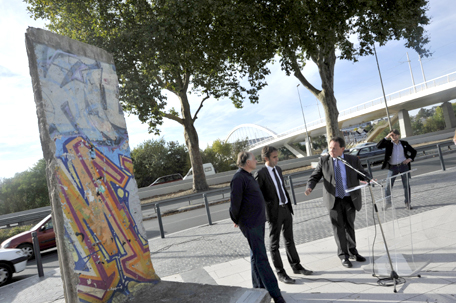 Credit Picture : Angers city
In front of the Multiplex, the Angers "Hall of fame", of cinema artists, the block of concrete doesn't look incongruous. Covered by tags probably drawed by people coming from the Western part of Berlin, the piece of concrete sets new challenges to Angers city. The first is material. The original tags covering its surface could easily disappear under new drawings of Angers taggers, ignorant of the historical value ot that symbol.
The second is intellectual. That piece of the Berlin Wall is also the mark of a new period for Germany which needed twenty years to swallow the economic and social difficulties triggered by the country reunification. These were solved by a budgetarian and fiscal discipline which todays gives results. Let's hope the Angers representatives, and inhabitants, thank to that piece of concrete, will remember the example Germany has shown.