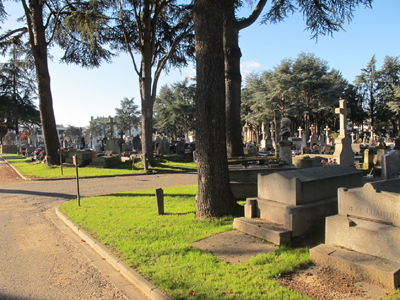 Credit Picture : Angers city
Few by few, silently, the Angers cemeteries borrow to the English graveyards their main caracteristic : lawns. This resuraction of gre

en

comes from the duty of the city to limit the use of pesticides in the maintenance of cemeteries. The massive use of pesticides during the 70's led that numerous undesirableplants became much more difficult to kill. Moreover, the presence of those substances in cemeteries made compulsory to reduce their access to the public. That became difficult during period like the Toussaint day when graveyards are overcrowded.
Credit Picture : Trees of memory (Pruillé)
Rather than fighting the botanic intruders, the Angers city now tries to make them disappear by sowing surfaces with grass seeds. "By covering the spaces with lawn or ground cover plants, we limit the appearance of undesirable species. And when, nevertheless, those grow despite everything, they integrate themselves in a vegetal environment in which their presence becomes less troublesome", explians Gilles Mahé, deputy-mayor in charge of environment and greens.
An Angers cemetery has, from its beginning chosen to cover its surface with lawns and trees : "The trees of memor

" located near Angers which could be unique in France.

On the Eastern cemetery, about 3 200 m2 have been sowed with grass seeds in 2012 in the place of paths and between gravestones. But to make more similar to gardens, the three Angers cemeteries will take a long time. They cover about 24 hectares. It will ne

ed m

ore than a lifetime.