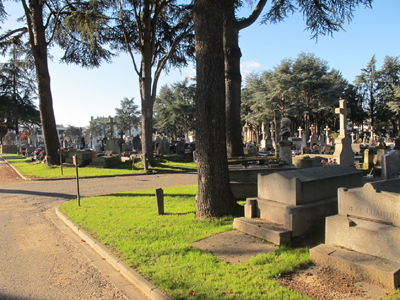 Credit picture : Angers city
An environ-mental target, the restriction of chemicals use in the public domain, is going to change Angers cementaries and to give them an american look.
According to its policy "No pesticide"
, Angers city had started to fill with lawns its burial grounds. During 2013, more than 27 400 m2 have been turfed. But, through that technical decision which will change the atmosphere of Angers cementaries, a reflection has emerged consisting in the evolution of the design of those resting places.
New spaces have been set up in the West cementary which are completely consistent with Us burial grounds : large lawns with, here and there, bushes and trees. But, under that visible change, another one, much more thoughful, is under way. In French cementaries, the deceased rest under different funerary stones. Some are large, other small. Some are costly, others cheap. Some are individualized, other anonymous. Some are black, others grey. And so. Differences continue between men even after their death.
Credit picture : Wikipedia; Brooklyn cenmentary
Us cementaries are inspired by the English garden movement. At the beginning of the XVIIth century, people started to use landscaping in a park-like setting, that coinciding with the growing popularity of horticulture and the romantic aesthetical taste for pastoral beauty. Angers being, for ages, a region dedicated to plants and vegetables, that interest of the city for natural cementaries is maybe not the fruit of chance.