Monuments blessés. - Depuis quelques mois, les habitants d'Angers constatent que des monuments ou équipements publics sont vandalisés. Après les locaux de la faculté de droit, l'arbre de la laïcité place Lorraine, c'est récemment la statue du guerrier massaï, près de la station de tramway Les Gares qui a été vandalisée.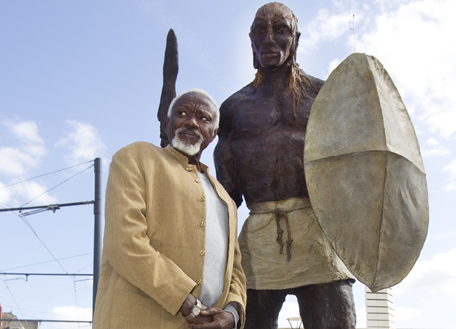 After the secularism tree, planted Lorraine square, and several times beheaded by unknown individuals, another artistic monument, the Massaï warrior set up near the Gares tramway station has also been damaged by anonymous. The lance held by the warrior has been curved several times what should lead town hall to reinforce it with an iron bar. But since three years, the statue is regularly vandalized.
If that work of Ousmane Sow, a Senegalese sculptor, will be transferred in a more visible point, in the middle of the Anquetil square, in front of the Saint-Laud railway station, the deteriorations of monuments (additional to those against bus stops or cars parked along the streets) are becoming frequent. The securalism tree located Lorraine square was monitored by cameras set up by the former town council and apparently, that was not sufficient to protect it.
A few months ago, the walls of the Angers law university were covered of racist messages.
Recently, in Angers teenagers had been arrested after deteriorations they made in the Belle-Beille district.
Those behaviours are particularly worrying about the lack of respect for public belongings and amazing about the costs of repairs, financed by town hall, i.e. Angers inhabitants.