La non participation du maire-adjoint aux finances, André Despagnet, à l'adoption du budget d'investissement 2014 de la ville d'Angers a marqué de façon spectaculaire, entre lui et le maire, une divergence de vue sur les dépenses que la ville a les moyens d'engager. Elle peut aussi illustrer son appui à Jean-Luc Rotureau, challanger direct à gauche de Frédéric Béatse, actuel maire et candidat à sa propre succession. Un événement que l'opposition n'a pas manqué d'exploiter.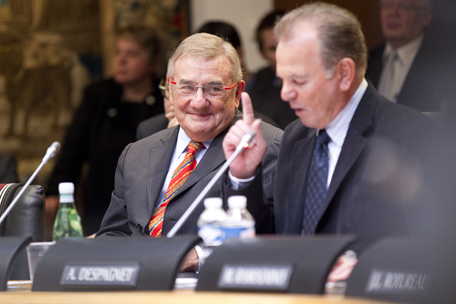 André Despagnet (right) [Credit Mairie d'Angers]
The meeting of the Angers city council on January 30th showed a dramatic and deep disagreement about the 2014 municipal budget. André Despagnet, the deputy mayor in charge of finances for more than 30 years denied to vote in favour of the capital budget of the town. Mr. Despagnet had already considered, after the previous meeting, that the amount of the planned investments in the current year was "
too high
" (
Angers Daily News
, January 7th). The standpoint of the deputy-mayor caused bitterness to the mayor, Frédéric Béatse, who reminded him that "
we had prepared that budget together and, at the very moment of its completion, I have asked you, into each other's eyes, if it was ok and you told me
'it's ok'".
Frédéric Béatse
Doing so, Mr. Despagnet not only suggests that the city may not get the sufficient resources to implement its projects (especially as Mr. Béatse promised he will not raise taxes rates) but, above all, gave his implicit support to Jean-Luc Rotureau, former deputy-mayor and himself challenger, on the left side, of the current mayor in the next municipal elections. While, in 2013, the Angers capital budget totalled up about € 69 millions, the that of 2014 is € 76 millions. "
It's difficult for me to present that
[2014]
budget today. Yes I have some qualms. I am not at ease
" adding, to his majority colleagues "
You heared me but you didn't listen to me
" and warning that "
more borrowings
" would lead to "
more taxes
".
Jean Luc Rotureau (left) [ Credit Le Blog de JLR]
The left and right oppositions in city council stepped into the breach. Mr. Rotureau, who asked for a public debate about the municipal finances, supported Mrs. Despagnet's opinion and criticized his challengers for their "
infeasible projects catalogs
". Laurent Gérault, the centrist candidate pointed out that the 2014 budget was "
a turning point
" and the "
presages of the passage from a healthy situation to a damaged one for the years to come
".
Between Frédéric Béatse and Jean-Luc Rotureau, a point of no-return seems to have been reached because the same day, each of them claimed they got the support of the left political party, the
Parti radical de gauche
(Prg). Mr. Béatse, in the afternoon, claimed he had rallied the support of the Prg and read a national press release telling so while, a little bit later in the afternoon, the Angers section of the same Prg announced that it will support Jean-Luc Rotureau's candidacy...