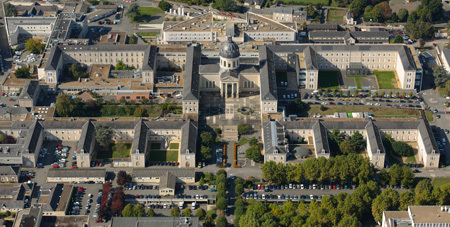 Credit Picture : agents CHU Angers
If Angers is becoming one of the French, and maybe, European town most involved in the fight against cancer, with the current widening of the
Institut de cancérologie de l'Ouest
, located in the city
Centre hospitalier universitaire
, its efforts do not only consist in new medical means and material or financial resources. The Angers nursing and medical staff is also working on the ways leading to a better moral comfort for its patients whose existence is damaged, or threatened, by cancer. The goal is to implement a more human medecine which listens to and accompanies the sick persons.
Credit picture : Orl Chu Angers
Because cancer is now a very common disease, medical staffs are due to focus on their job : to care and to to try to save patients. The frequency of the clinical cases may sometimes lead them to forget they face people "
who breathe, live, think and suffer
". Sor the relationships between doctors and patients is essential, but also complex. In France, the issue has been dealt at the request of patients and led to a kind of formalisation of the announcement to a sick person of his or her disease, an annoucement with empathy. And that approach may be learnt.
Credit Picture : Ico
This is the goal of a course ot theatre delivered to Angers medical staff in order to make the anouncement of a cancer more comfortable to the doctors and their patients. Medecine students, young doctors and specialists work with patients performed by colleagues themselves members of the Chu theatrical community. If there is no good manner to tell somebody a bad news, some ways are better than others.