Faute de pouvoir porter un jugement sur l'action du maire d'Angers tout juste élu, les médias cherchent à savoir qui il est. Les couvertures mettent l'accent sur un tempérament ambitieux qui, force est de le constater, a largement rencontré l'aspiration des Angevins.
Local, regional and even national medias dedicated coverages to the election of the Angers mayor, Christophe Béchu, and to his personal characteristics. Most of them describe that one as an ambitious man even if, in policy as in numerous fields, a personal ambition may converge with a collective one. Nevertheless, Mr. Béchu should be aware that, up from now, even if the content of his polcy will not - immediately - be criticized, his style in office can be. An that has already started.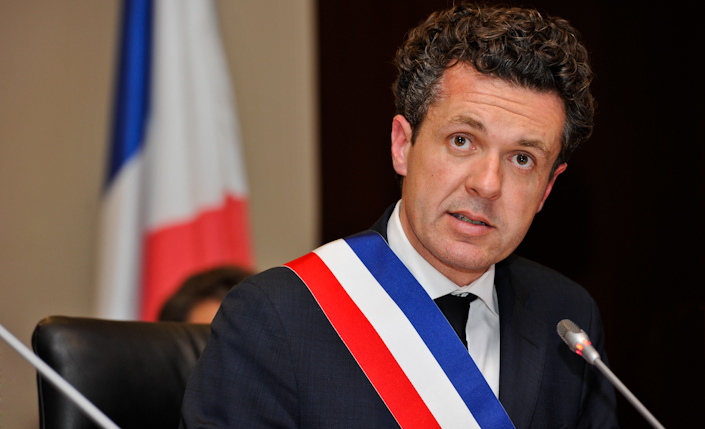 France 3 Pays de la Loire, the state tv channel, published on April 5th an article which introduces the new Angers mayor "
in an interactive photo
". That one shows Mr. Béchu, straight like a rod, in front of the circular table on the city council sessions, after he was just girded with the three colours scarf. The picture, through some technical landmarks, give to the readers some "
indications
" about Mr. Béchu's personality. Called, "
the Angevin Sarko
", the mayor is "
a young man in the rush
" whose ambition "
looks today fulfilled
" after "
a dirty campaign
" in which he was under personal attacks.
France 3 also quotes a statement the current mayor would have made when he was a teenager (17 years old...) to a school mate about his political future as region councillor, then minister, then French republic president. A few weeks before, the weekly
Le Point
, published a series of articles about the former candidate to Angers mayor office "
The Béchu phenomena
". The series starts with a "
Radioscopy of an ambitious
" and talks about his "
electoral greed
". All this indicate that, by some aspects, the temper of Mr. Béchu could the point on which observers will focus, meaning that the Angers mayor office is only for him a spring board. But the new mayor is surely aware of that and, moreover, that could precisely be what some of the Angers voters would like.