Le ministère de la Justice a fait savoir qu'une décision serait prise à propos de la restauration de la prison ou de la construction d'un nouveau centre pénitencier à Trélazé d'ici la rentrée. L'ensemble des élus angevins est favorable au transfert et en particulier le nouveau maire, Christophe Béchu. Mais celui-ci n'est pas de la même tendance politique que le gouvernement et les finances de l'Etat sont plutôt mal en point. Angers pourrait rester captif de sa prison
.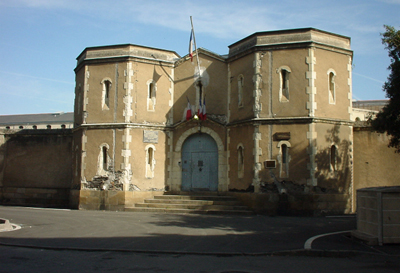 The minister of justice has announced on April 9th that it will make a decision about the future of the Angers
before the end of summer
". Two options are possible : to restore the current building or to build a new one in Trélazé. A few months ago, a delegation of the ministry came to Angers in order to think about it and the question was asked to the minister herself, Christiane Taubira, by all the Angers and surroundings representatives. Among them, there is a consensus in favour of a tranfer of the Angers current jail to Trélazé in a new one.
prison "
The issue recently got an additional importance because in the programme of the new Angers mayor, Christophe Béchu, a scheme has been unveiled consisting in the tranformation of the current prison to a museum of contemporary arts. Mr. Béchu, as well as most of Angers representatives, has for long criticized the current conditions of life for prisoners in the Angers penitenciary centre given its age and its over population. All of them consider the situation as "
shameful
" for the convicted persons, the prison wardens and the country. The minister, Christiane Taubira, who is due to leave her office in the next three months, has said that she was favourable to a restoration of the current site, probably because the French state doesn't have the first euro to finance a new jail...
It is likely that the new Angers mayor will use its attendance to "
Les confluences pénales de l'Ouest
" an event gathering law professionals, to remind his promise and to exert pressure on the state to transfer the jail. The problem is Mr. Béchu is, as mayor and senator, an opponent to the French government. So that one could be tempted to reject his application even if the transfer to Trélazé is probably the best option.
The current Angers prison was built in the middle of the XIXth century. His existence prevents any transformation of the surrounding district. In many countries, that building would be purely and solely razed. It is far from being an artistic heritage.