La défaite de la gauche aux dernières élections municipales a rapidement ouvert des foyers de polémiques. Le parti socialiste estime que Jean-Luc Rotureau "doit des comptes" et que ni celui-ci, ni l'ancien maire Frédéric Béatse ne sont "les hommes de rassemblement" dont la gauche a besoin en 2020. L'ancien maire Jean Monnier, figure historique des Socialistes angevins, pourrait même assister à la séance d'installation du Conseil municipal.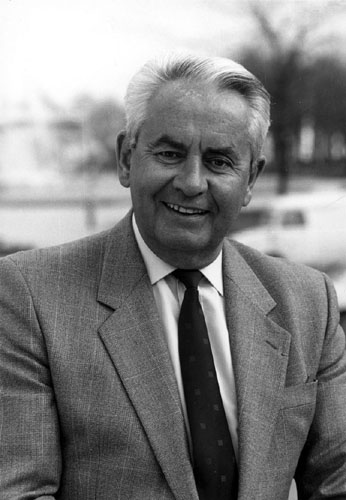 Jean Monnier
While Christophe Béchu and his running mates of the
Angers pour vous
list are preparing for the assumption of their duties starting from the session of the city council on April 4th à 5 pm, the defeated supporters of Frédéric Béatse as well as those of Jean-Luc Rotureau are also preparing a new period because the left managed the city for 37 years, from 1977 until 2014.
The head of the Maine-et-Loire socialists, Grégory Blanc, holds Jean-Luc Rotureau as accountable for the 2014 municipal polls outcome. "
Jean-Luc will not escape from a clarification
", said Mr. Blanc who added "
Of course, he is not anymore a member of the socialist party, but he is accountable vis-à-vis the left
". Grégory Blanc would particularly know why an email from Mr. Rotureau blaming Mr. Béatse between the two rounds, finally came to Mr. Béchu and why some of his running mates attended the new mayor's gathering. "
Why dit he go so far in the last straight line. He owes us some explanations
", said Mr. Blanc who looks to evict Frédéric Béatse or Jean-Luc Rotureau from the socialist investiture in 2020. "
We need a rounding up man
", he bluntly said what is not encouraging for the first one, as new minority leader.
Christophe Béchu
A few days before, Jean-Luc Rotureau was not more tactful and made the outgoing team the only responsible of the left defeat. "
Those people didn't see, or didn't want to see, the rejection of their clannish system. Their objective was to remain in office at all costs. Angers is a city connected with the centre. The municipal team made a serious misjudgment on that point
". So it should take time in the Angers left before the pieces be put together.
As if those political difficulties were not be sufficient, Jean-Monnier, the first socialist mayor of Angers, is said to attend the inaugural session of the city council (as well as the former member of parliament, conservative, Roselyne Bachelot, now columnist on the D8 tv channel) what will be help the new decision markers to suggest that the terms of Jean-Claude Antonini and Frédéric Béatse were only parenthesis in the city history and even disavowed by the historical character of the Angers left.