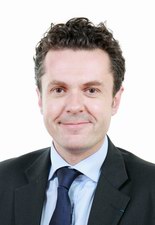 Christophe Béchu
For the municipal polls of 2014, things are getting more complex for the two main candidates, Frédéric Béatse, current mayor of Angers and Christophe Béchu, president of the Maine-et-Loire general council, his challenger. On the left side, Mr Béatse has been weakened by the going of his deputy-mayor, Jean-Luc Rotureau, after this one failed to promote primaries for the choice of the left candidate to the Angers mayor office. On the right, a theorical ally of Christophe Béchu, Laurent Gérault, opposition councillor at Angers city council, has been choosen by his party to stand as candidate for the Angers polls next year.
Laurent Gérault
Jean-Luc Rotureau
It is not sure Mr Gérault will join Mr Béchu on the same list. There is no certainty Mr Rotureau will come back in Mr Béatse side. Would the third option be an alliance between the centre and part of the left, i.e. : Mr Gérault and Mr Rotureau or between the first and Mr Béatse? It is sure that the conquest of the Angers city hall would become more difficult for Mr Béchu without partner. But the man succeeded to get ally on the left for the last municipal polls.
Frédéric Béatse
Tempers are flaring both on left and right. Recently the Graines d'Angers, a movement gathering young supporters launched an appeal in favor of Christophe Béchu's candidacy. That triggered a sarcastic reply of the Angers young socialists. If the final result is presently unpredictable, something looks likely. The next elections will be tough even if they will not enlighten the real economic stakes for Angers inhabitants.