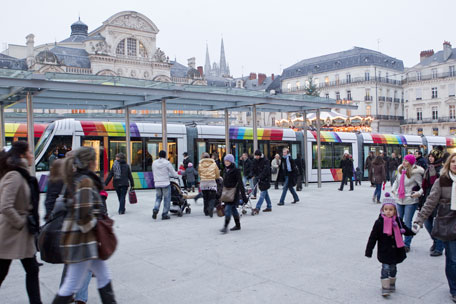 If, throughout the redevelopment of the Maine banks, the awakening of inhabitants to nature and ecology, the search awards for its green spaces, Angers city is trying to distinguish itself from other western cities is useful, the mineral aspect of its core is becoming a handicap the mayor will have to overcome, first of all, for political reason. The hunger strike of a store owner against the set up of giant pots of shrubs in front of its store was becoming more and more cumbersome for the majority of town council already criticized by many store owners for its policy regarding the commerce sector.
Christophe Béchu, president of the Conseil général de Maine et Loire and main contender of Frédéric Béatse, current Angers mayor, for the next municipal ballots of 2014, has (skilfully) taken advantage of that specific situation to enlarge the debate upon the mineral aspect of the Ralliement square where that store owner has settled. According to Mr. Béchu, the Ralliement square is one of the most important failure of the current municipal team he compared to a "funeral slab"...
Mr. Béatse is aware of that problem he wants to solve as soon as that year by the set up of flowers and shrubs throughout the place. It is true that cemetaries are often decorated with flowers...