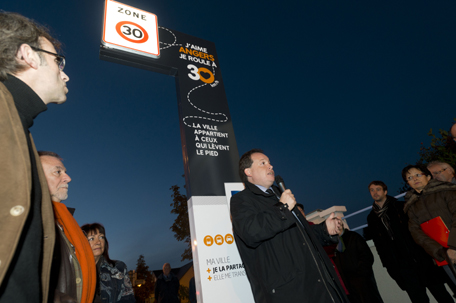 "I love Angers. I drive to 30 km/h" is the title of a campaign the city council unfolds over the different districts of the town. That initiative is part of the "Street code" policy which aims, unofficially, to dissuade inhabitants to use their cars in town in favor of alternative mode of travel : tramway or buses, biking or simply walking. In every district, the speed in most of the streets is now limitated to 30km/h, while, along the principal ways, the speed stays unchanged at 50 km/h.
The idea is good for inhabitants' health (and wallet), air cleanliness, quietness of streets and safety of trafic... But to convince inhabitants to let their car in the garage, Angers will have to enhance advantages to go in town by "soft" or collective modes of transportation. And the current conditions stimulating inhabitants to use one or the other are not yet gathered. The price of a one way ticket by bus or tramway is €1.40 what is quite expensive, and travellers have to buy another one for their way back home if they stay more than one hour in down town.
For the bikers, it's not better because of the unsafety of traffic : lanes for bikers are hardly ever distinct from the ways dedicated to cars but the limitation of the maximum speed for these may be counterproductive for bikers. At 30 km/h, cars do not go faster than bikes and the drivers may be get irritated, so more agressive. In that way, the association of inhabitants - drivers or walkers from time to time - looks suited to the objective.
But the street code should also include measures aiming at "driving" inhabitants to have respect for the cleanliness of the urban ways...The street code is also a courtesy code and from that point of view, the game is far from being won.