Angers et le Maine et Loire ont été sous les feux de Vivement dimanche, l'émission de Ffrance 2 présentée par Michel Drucker et consacrée, au film de Georges Clooney, "The monument's men". Ce film s'inspire d'un ouvrage historique écrit par la sénatrice Corinne Bouchoux, ce dernier a été offert à la star américaine.
Angers and the Maine-et-Loire have had the honour of "
Vivement dimanche
", a talk-show broadcasted on February 2nd, and presented by Michel Drucker on France 2 channel whose guest was the American actor George Clooney. That one is the director and performer of The monuments' men, an Us-German movie about rhe mission of an allied group finding and saving pieces of art and other cultural important items before their destruction by Hitler, during the second World War. The story is basrd on real events to which Corinne Bouchouw, Maine-et-Loire senator, dedicated a book published in 2006 and offered by Michel Drucker to Georges Cooney.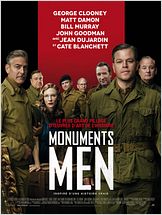 Mrs. Bouchoux, herself history doctor, detailed on March 8th, on
Angers medias, the story of her book which tells the story of Rose Vallan, an attaché at the Jeun de paume museum (Paris) where passed numerous works of art atolen by the German army. Sh also told the way that one came in Georges Clooney's hands. "I was touched when Michel Drucker offered my book to Georges Clooney", she said, "
It's an answer to persons wondering what is research for?
".
The copyrights of Mrs Bouchoux were bought by a Texan bilionnaire, Robert Edsel, who did the same with other books and wrote "The Monuments men : allied heroes, nazi thieves and the greatest treasure hunt in history", later introduced to Georges Clooney. Upon that story, that one decided to make a movie in which he is one of the actors, by Cate Blanchet, Matt Damon and Jean Dujardin.
"The monuments' men" has just been screened on Angers cinemas. Unfortunately, that one didn't came there. Maybe he will a next Sunday?