The arrival of the Angers new streetcar in its central station on december 1st only pointed out critics from the population regarding the urban design of the site.
In spite of the cold weather and the wind of the winter, the incompleteness of the transformation of the area, and its present vitality with the Christmas decorations, the Ralliement square looks impersonal and mineral for many inhabitants of Angers city. The flagstones and the cobblestones of the surface as well as the fronts of the buildings create a feeling of greyness and monotony for many people interviewed by local medias.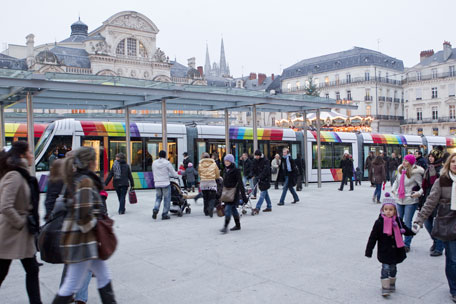 The involvment of Angers city in the redevelopment of several districts (La Roseraie, Belle-Beille, Grand-Pigeon and, to come, Monplaisir) as well as the complete transformation of the appearance and functions of Maine banks seems absent in the design of the Ralliement square. Apart the possibilities to plant trees and create flower beds, the area will probably have the same look along the seasons. And the white colour of the street car will not warm up the place.
Hopefully, two restaurants owners are creating new commercial surfaces which could bring animation all year long. The Ralliement square could remain a pleasant area, only with special events given the functionnal choices (parking and transport line) it has received for the years to come.