La place du Ralliement se met au vert tout l'été. Jusqu'au 30 août, des transats attendent les passants au milieu d'arbustes et de fleurs dont la vue est agrémentée par le babillement des fontaines. Mais ces aménagements passagers ne font que souligner le manque de personalité de l'endroit tout le reste de l'année.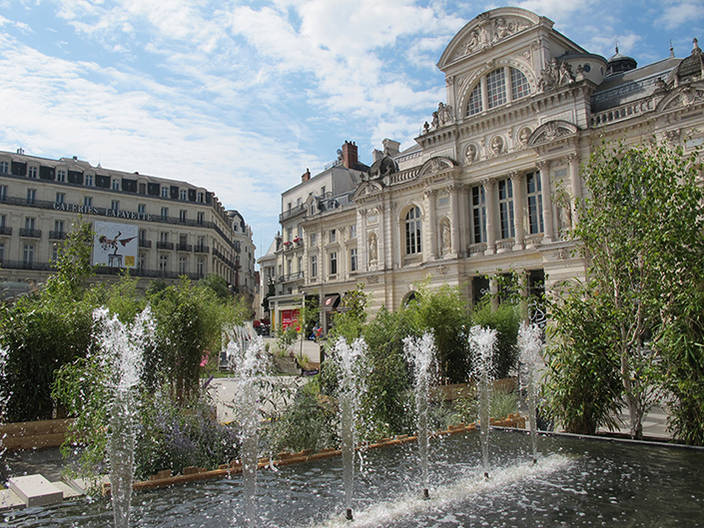 The summer settings of the Ralliement square will surely be welcomed by Angers inhabitants. But they also remind that the square renovation, achieved in 2011, is above all a complete failure. The flowers, the bushes, the (false) lawn and the deckchairs will perfectly meet the expectations of the Angevins regarding a location which reflects the nature and the culture of their city.
Angers, which for a long time, claimed, and still claims, its involv-ment towards nature, through its economic sectors, through the quality of its life and above all through the abundance of natural environment within its limits, got, ironically, a central square absolutely at the opposite of its positionning. The Ralliement square has been widely criticized for the absence of vegetable (except a few trees which hardly grow), its coldness because of its mineral aspect and its impersonal character.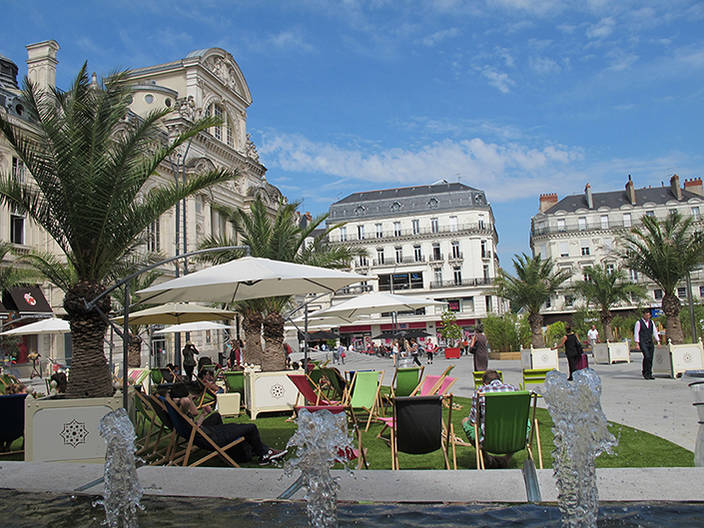 Credit pictures : Angers city
The summer settings only put forward the elements which the square misses : the bushes and flowers create a peaceful harmony with the bubble of the fountains, a music atmosphere and lightings invites the night walkers to start there a dicovery of the town with their friends. A Ralliement square is fist of all a place which rallies interests and curiosity. Those objectives should be achieved, at least during the summer.