Le festival de rue Les Accroche-Coeurs qui se déroulera du 11 au 14 septembre dans les rues d'Angers sera l'occasion de nombreuses réjouissances. Mais ce sera aussi l'occasion d'un petit serrement de coeur puisque la compagnie angevine des arts de la rue Jo Bithume y fera sa dernière apparition. Elle fut pendant dix ans l'âme du festival.
The
Accroche-Coeurs festival
, a cultural event which celebrates the come-back of Angers inhabitants to work, school or home, will also mark the final way out of the Company Jo Bithume. Among the legitimate and majority reasons of festival goers to be happy, that closure could be one reason for them to be sad.The Accroche-Coeurs will be the "
farewell tour
" of the band, indicates that one on the
Angers city website
.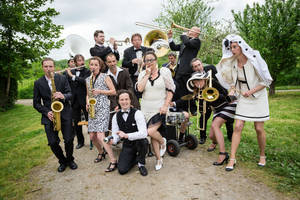 "
Farewell tour, with our brass band always dressed up, but even more off the wall. With laugh always, but also with a pinch of tears, a touch of sentiment to celebrate and share that moment with the public of the street, of our street, of your street
", say, with surely a heartache, the Jo Bithume artists who will perform on September 14 th at midday on Savatte embankment and at 8 pm on Debré mall.
Founded in 1982 by members passionated by music, circus and street performances, the Company was a long time partner of the Accroche-Coeurs festival of which it was the artistic and technical manager between 1990 and 2009. During the 2014 summer, the Angers commercial court decided its compulsory liquidation planned next September 24. "After 14 years of tour from Arkhangelsk to Salamanca, from Dublin to Hong Kong, the brass band bow out gracefully". Without a wrong note.